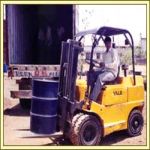 Krishi Oils Limited is a leading manufacturer, supplier and exporter of methyl esters and processed linseed oils in India. In association with our sister company Leoflex Private Limited we are now offering Premium Liquid Laundry Detergent under the brand name of ZYNE for domestic and export market.

The products offered by us are for FMCG, consumers, industrial and technical use in paints, printing inks, synthetic (alkyd) resins, varnishes, adhesives, plasticisers, sealants, leather, foundries, wood & timber preservation / treatment, glass putty, etc. Also, the biodiesel or methyl esters find use as fuel, solvent, lubricant, adjuvant, cleaner, metal pre-treatment (degreasing). Methyl ester sulfonates can be prepared from these for use in detergents.

We have a well-established infrastructure that enables us in the processing of a variety of products of superior quality. In order to meet the exact requirements of our buyers, our products can be processed as per their specifications.
Read more...